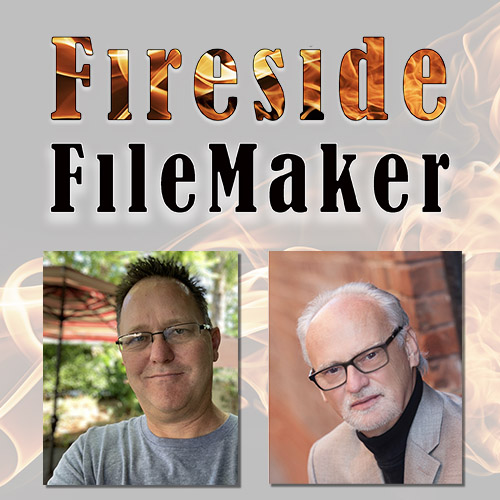 Fireside FileMaker™ is a podcast collaboration between John Mark Osborne and Michael Rocharde discussing FileMaker related topics. We'll guide you through the ins and outs of complex FileMaker decisions within the warmth and comfort of a campfire discussion amongst friends. Download an episode and try us out and please leave comments. We would love to hear your thoughts on existing podcasts or suggestions for future FileMaker related episodes.
Episodes
Wednesday Jul 22, 2020
Wednesday Jul 22, 2020
We invited Darren Terry on our show to talk about the calculation dependency tree (what triggers calculations to fire). What we got was so much more than we expected. Darren's close ties with Claris engineers and dedication to the platform has given him insight into how FileMaker works under the hood. To put it simply, both of us were flabbergasted at how much he taught us about FileMaker. Come join us in this in this "can't miss" PodCast about the calculation engine and whatever else comes across Darren's big brain. (Our regular guest, Marc Larochelle had this to say "You can plant an entire garden while learning about dependency trees."
Original "Shaking the Dependency Tree" Article from FileMaker Hacks
Comments
(2)
To leave or reply to comments, please download free Podbean or
So credit where it's due: that's Hannah's technique. She's very good.
I wanted to add something that I neglected to mention during the podcast. During the discussion around button bars, I mentioned a technique of having conditional visibility to hide certain segments to be used as sortable column headers. I neglected to give proper credit there. I totally got that technique from one of my clients, who has turned into sort of my FileMaker protege. I had a more clunky solution that I'd used for years, and Hannah came up with something far more elegant.